Submitted by Pamela Snow on Sun, 01/15/2017 - 18:59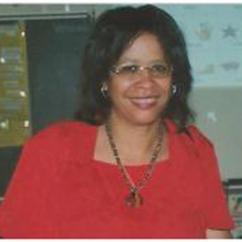 Marie Geneviève "Ginou" Elizabeth Bernadel was born on July 12, 1962 in Port- au-Prince, Haiti. She was the second child born to Adeline and Luther Bernadel.
Geneviève attended "Les Soeurs de la Charité de St. Louis", from grade school through high school. She studied to be a kindergarten teacher while in Haiti but once in the United States she pursued her love for sewing. From an early age, Geneviève demonstrated various talents. Her very gifted hands enabled her to excel in both the domestic and creative arts. Geneviève had a great love for fashion and was an excellent seamstress. She made wedding dresses, headpieces and veils for both her sister-in-law Debbie and her sister Réjeanne that included intricate detailed embroidery and pearls sewn by hand!
Geneviève migrated to the United States in 1986 where she resided with her sister and mother until her passing. On arriving in the US, Geneviève worked in childcare and was beloved and entrusted by the families. In 2013, she studied and attained her CNA certification and was working in the private sector in that capacity.
Geneviève's life was guided and rooted in her Christian faith and she had a heart for service to others. At St. Christopher's, Geneviève was a dedicated member of the Altar Guild and the Hospitality committee, where she could be seen at functions working hard in the kitchen, making sure food trays were replenished and was a part of the set-up and clean-up crews that demanded long hours. Geneviève was also a member of Community café where she served countless meals to the homeless at First United Methodist Church in Hyattsville, Maryland. She would help anybody, even if not asked.
On Tuesday, December 27th Geneviève passed from labor to reward, leaving us to cherish her memory. She is pre-deceased by her father Luther Bernadel and is survived by her mother Adeline Bernadel, brother Luther Bernadel Jr., sisters Réjeanne Bernadel-Juste and Patricia B. Biela, sister-in-law Debbie, nephews Joffrey (JoJo) Juste and Venancio Biela Jr., nieces Rachelle, Rebecca (Becca) Bernadel and Patsie Biela, great-niece Anaiah (her CHILDREN at heart), and many family and friends who will miss her dearly.
Repose-toi in Paix, Ginou.
"For we know that if our earthly house of this tabernacle were dissolved, we have a building of God, an house not made with hands, eternal in the heavens."