Submitted by Staff Reporter on Mon, 07/28/2014 - 18:21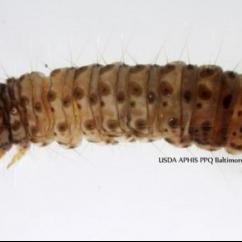 BALTIMORE - A U.S. Department of Agriculture (USDA) entomologist confirmed Thursday that U. S. Customs and Border Protection (CBP) Office of Field Operations (OFO) agriculture specialists at Baltimore Washington Thurgood Marshall International Airport discovered a new pest in the Baltimore area when they intercepted a Chrysauginae (Pyralidae), which is a type of caterpillar, while inspecting sour sop leaves found in a passenger's luggage on November 14.
Caterpillars can pose a significant agriculture threat because they feed on a wide variety of important agriculture crops. Infestation can lead to a decrease in productivity and quality of crops, which can result in significant economic loss. When bacteria and fungi enter the injury caused by the feeding caterpillars indirect effects such as rotting or early dropping of fruits can occur.
"CBP agriculture specialists are very good at detecting foreign invasive plants and plant pests," said Dianna Bowman CBP Area Port Director for the Port of Baltimore. "This discovery highlights the importance of the work they do, part of which is protecting the U.S. agriculture industry."
The caterpillar was discovered in tea bush leaves carried by a passenger arriving from Jamaica. CBP seized the infested sour sop leaves and forwarded a specimen to a USDA- Animal and Plant Health Inspection Service (APHIS) - Plant Protection and Quarantine (PPQ) entomologist for identification. The remaining sour sop leaves were then destroyed by incineration.
CBP agriculture specialists work closely with USDA's, APHIS, PPQ to protect our nation's agriculture resources against the introduction of foreign plant pests and animal diseases.
Please visit the USDA's APHIS PPQ website for more on their plant protection program.
CBP agriculture specialists have extensive training and experience in the biological sciences and agricultural inspection. On a typical day nationally, they inspect almost 1 million people as well as air and sea cargoes imported to the United States and seize 4,379 prohibited meat, plant materials or animal products, including 440 insect pests.
Please visit CBP agriculture specialists website to learn more about their agriculture protection mission.