Submitted by Abhishek Mukherjee on Thu, 04/11/2013 - 15:18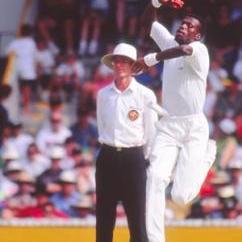 On April 10, 1990 Curtly Ambrose picked up a career-best 8 for 45 to demolish England at Kensington Oval. Abhishek Mukherjee looks back at one of the most stellar bowling performances from Ambrose that helped West Indies level the series.
"Pride wouldn't allow us to let England beat us at home" – Curtly Ambrose.
The pride had taken a serious jolt. England had won the first Test at Sabina Park by nine wickets; the second Test at Bourda was washed out; and England were on track with their chase in the third Test at Queen's Park Oval when time ran out, thanks to some 'deliberate' time-wasting by Viv Richards. The five-Test series was still alive, though, when the teams clashed for the fourth Test at Kensington Oval.
England had possibly erred in their team selection when they had left out off-spinner Eddie Hemmings for the fourth Test. The lack of the spinner cost them when the West Indians put up large partnerships in both innings – as their four-pronged seam-attack seemed exhausted at times.
Allan Lamb won the toss and chose to bowl in conditions that would probably have suited fast bowlers. He had forgotten that on the last two occasions when an England captain had elected to bowl at Kensington Oval, England had lost by 298 runs (under Ian Botham in 1980-81), and by an innings and 30 runs (under David Gower in 1985-86).
Day One: Best's maiden ton
Gladstone Small struck early, removing Desmond Haynes. However, Gordon Greenidge launched a furious assault on the English bowlers, and was ably supported by Richie Richardson. At 108 for three, however, the English bowlers probably looked a bit hopeful — but that was when Richards walked out to join Carlisle Best.
The English spearhead, Devon Malcolm, went horribly awry with the ball, with no control over the line and length. Small, Phillip DeFreitas, and David Capel tried to restrain Richards – but when Richards got going, restraining him was next to impossible even for the very best.
The great man butchered the hapless English bowlers to score 70 from 110 balls with seven fours and two sixes — out of a partnership of 118. Even after Richards was caught-behind off Capel, Gus Logie entered and kept the assault going, adding 64 with Best in 69 minutes before he fell.
Best, the local hero, reached his hundred just before stumps, and West Indies finished at a rapidly-paced 311 for five. It was evident that they were going for the win.
Day Two: England gnaw back
Best took charge early on the second day, dominating a rapid 104-run partnership with Jeff Dujon. He was eighth out for a 245-minute 164 with 19 fours, and West Indies finished with 446. It would remain Best's only Test hundred. Small finished with four wickets while Capel took three.
England began terribly, Wayne Larkins fell leg-before to Ian Bishop for a golden duck. Though Alec Stewart made a defiant 61-ball 45, England were reduced to 75 for three, when Robin Smith walked out to join Lamb. Between them, they carved out a sizeable partnership: while Lamb counterattacked, Smith held his fort — and the West Indian pace quartet, comprising Bishop, Ambrose, Malcolm Marshall, and Ezra Moseley, were slowly worn down.
England finished the day at 155 for 3, 291 runs in arrears. Lamb was batting on 63, while Smith provided him support with 17. Could West Indies enforce the follow-on?
Day Three: England save follow-on
Lamb and Smith batted on, eventually avoiding the follow-on. The duo added 193 for the fourth wicket before Lamb fell to Ambrose for a 224-ball 119 with 14 fours. Soon afterwards, Smith was cleaned up by Moseley for a painstaking 246-ball 62 – and the fast bowlers, led by Bishop (4 for 70), bowled them out for 358.
West Indies lost Greenidge early, and finished with 17 for 1 at stumps, leading by 105 runs. Could they push for a win?
Day Four: Haynes charges, bowlers strike
West Indies went for the kill from the very beginning. Best was unfit to bat and Richards fell cheaply, Richardson and Logie contributed with quick fire cameos. But it was Haynes who stole the show: the 177-ball 109 was special in every sense of the word, and after he fell to Small, Richards declared soon afterwards at 267 for 8. Small picked up four more wickets to finish with a match tally of 8 for 183, while DeFreitas took three.
England required to score an unrealistic 356, or survive a day and 50 minutes — delayed somewhat by Lamb's 'intentional' time-wasting tactics (England bowled 11 overs an hour towards the end of the innings). Had Richards left it for too late?
England were in disarray before they could realise anything. Bishop began the carnage by trapping Larkins leg-before yet again; he had lasted two balls this time, and had bagged a pair. As an Ambrose snorter then brushed Rob Bailey's hip and flew to Dujon, Richards appealed vociferously, and kept on appealing incessantly until he could convince umpire Lloyd Barker of the edge. Two balls later the night-watchman Small walked back for a duck.
Lamb promoted Jack Russell over himself. England were on 15 for three at stumps, with Stewart (4) and Russell (3) avoiding any further damage. The crowd, visibly euphoric, returned home with the hopes of West Indies squaring the series.
Day Five: The drama unfolds
After a much-needed rest day, the four fast bowlers bowled with spiteful aggression, desperate to pick up the remaining seven wickets to square the series. Stewart and Russell kept them at by adding 61 valuable runs, and more importantly, killing close to an hour and a half on the fifth morning.
It was then that Ambrose found Stewart's edge, and had him caught by Richards in the slips. Lamb walked out. With victory out of question, both Russell and Lamb hung around grimly, and were not separated till lunch. Marshall, then vanquisher of many a battle, seemed surprisingly ineffective, which hurt the West Indian cause severely.
Moseley broke the partnership eventually, though the duo had batted for over an hour, and England had inched towards saving the Test, despite being 97 for five. Smith, after his dour show in the first innings, joined Russell, with Nasser Hussain still waiting in the dressing room. Surely they could save the Test from here?
Minutes passed. Inch by inch England closed down upon the draw. Russell and Smith looked confident, and whatever the West Indians tried did not work. Richards brought himself on, and even tried Richardson's military-medium bowling, but to no avail. Then he took the new ball, and brought back Ambrose for one final burst.
Ambrose, tall, mean, aggressive, and ruthless, was already one of the most potent weapons in the West Indian pace battery. The one defining moment that propels the very good to the great, however, had not yet arrived in his career. On this day, he ran in for one final time, knowing well that it might be his last spell of the match. England were 166 for five at this stage.
"I had to pull something out of the bag to give West Indies a chance," wrote Ambrose much later. He bowled straight, kept hitting the deck hard, and pitched up the occasional one. The fifth-day pitch assisted him, and as he kept a tight line, he reaped the rewards.
That final spell
"Bowled!" shouted the Barbadians in unison! Ambrose had bowled a length ball that had kept low, and had crashed onto Russell's stumps. The resilience had finally ended. Russell, after a vigilance of 238 balls and 306 minutes, was finally walking back for 55.
Ambrose had now taken four wickets, and looked hungry for more. He bowled a good length at a furious pace, and never erred in line. Hussain fell for a duck, leg-before to Ambrose, and Capel went the same way. DeFreitas fell on the first ball, giving Ambrose yet another leg-before dismissal. Could Smith guard Malcolm to see England off to safety?
He couldn't. After surviving for close to half-an-hour, Malcolm was leg-before to Ambrose, giving him his eighth wicket. England folded for 191, with Smith unbeaten on 40, scored over 215 minutes and 150 balls. His match tally read 102 runs in 586 minutes and 374 balls.
Ambrose had finished with a career-best eight for 45, and match figures of 10 for 127. Five of the wickets were leg-before, one bowled, one caught-behind, and one caught in the slips. It would remain his best First-Class figures, and more importantly, the spell elevated him to the league of the greats. The 1990s would never be the same for the batsmen all over the world, especially the English.
The last Test
England never suffered the setback. Bishop took eight wickets, Ambrose six, and Greenidge and Haynes put up a 298-run opening partnership. West Indies won the Test by an innings, and clinched the series 2-1. Pride was restored.
Brief scores: West Indies 446 (Carlisle Best 164, Viv Richards 70; Gladstone Small 4 for 109) and 267 for 8 declared (Desmond Haynes 109; Gladstone Small 4 for 74) defeated England 358 (Allan Lamb 119, Robin Smith 62; Ian Bishop 4 for 70) and 191 (Jack Russell 55; Curtly Ambrose 8 for 45) by 164 runs.
(Abhishek Mukherjee is a cricket historian and Senior Cricket Writer at CricketCountry. He generally looks upon life as a journey involving two components – cricket and literature – though not as disjoint elements. A passionate follower of the history of the sport with an insatiable appetite for trivia and anecdotes, he has also a steady love affair with the incredible assortment of numbers that cricket has to offer. He also thinks he can bowl decent leg-breaks in street cricket, and blogs at http://ovshake.blogspot.in. He can be followed on Facebook at http://www.facebook.com/ovshake and on Twitter at http://www.twitter.com/ovshake42)