Submitted by Abhishek Mukherjee on Tue, 04/09/2013 - 08:15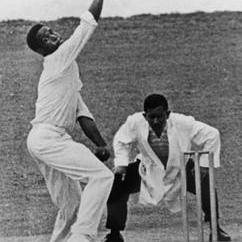 Gary Sobers, arguably the greatest cricketer of all times, made his Test debut on March 30, 1954. Abhishek Mukherjee looks back at the stepping-stone of an amazing career.
West Indies had won the first two Tests of the 1953-54 home series, but England clawed their way back to win the third Test. After a drawn fourth Test, the teams met at Kingston for the crucial final Test. To quote EW Swanton, "a slim, remarkably loose-limbed left-hander" made his debut in that Test.
Garry Sobers made his debut at 17 years 245 days, at that stage the 10-youngest Test cricketer. His batting potential was largely undiscovered, as was his seam-bowling talents. He made his Test debut purely as a lower-order batsman who could bowl spin, and was brought in as a replacement for the unwell Alf Valentine. It was only his third First-Class match.
Bailey's strikes
Jeffrey Stollmeyer won the toss, and had no hesitation in batting first on what looked like a flat wicket. Owing to Brian Statham's injury, England played all their three spinners — Johnny Wardle, Jim Laker, and Tony Lock, which meant that Trevor Bailey would have to share the new ball with Fred Trueman.
Stollmeyer came to the dressing-room and informed Sobers "you're No 9". The would-be great man had probably anticipated a day's rest, but before they could understand anything, John Holt, Everton Weekes, and Stollmeyer were all dismissed by Bailey, while Trueman accounted for Frank Worrell. West Indies were 13 for four on a placid track, Bailey having taken three for five.
Clyde Walcott fought back, adding 52 with Denis Atkinson. But once Atkinson fell, wickets kept on falling. Sobers went out to bat when Walcott was seventh out with the West Indies total on 110. Sobers batted sensibly, and though he lost Clifford McWatt early, he shepherded the tail, and remained 14 not out as West Indies were bowled out for 139. Bailey had taken a career-best seven for 34.
Sobers writes: "When I arrived back in the dressing-room in Kingston, the other players responded as though I had made a century. Most of them congratulated me. It gave me the added confidence when it came to bowling the next day."
Hutton takes control, Sobers strikes
The England openers, Len Hutton and Bailey, put up 43 runs when Stollmeyer asked Sobers to bowl. Bailey tried to square-cut the fourth ball of Sobers' first over, and McWatt took the resultant edge to give Sobers his first Test wicket. "I played for the turn which wasn't there", said Bailey. Ironically, years later, Bailey later went on to write Sobers' biography.
That did not alter things to a great extent. Len Hutton took complete control of the Test, and despite wickets falling at the other end, he stood firm, blunting the West Indian attack consisting of Frank King, Gerry Gomez, Denis Atkinson, Sonny Ramadhin, and of course, Sobers.
They got Peter May, they got Denis Compton (who was hit wicket — and still holds the record for getting out hit wicket the highest number of times in Test history), and they got Tom Graveney. King unleashed a bouncer barrage, but the great Yorkshire opener stood firm, leading from the front, batting for close to nine hours.
King, however, continued to bowl superbly, and finished with 26-12-45-2, but could not take field on the Third Day due to a leg injury, which turned out to be significant in the end. From 179 for five, Hutton and Godfrey Evans added 108.
After Evans, Hutton found another partner in Johnny Wardle, and together they took the score from 287 for six to 392 before Hutton fell for 205 — 66 more than what West Indies had scored — caught behind off Walcott, of all people. It was a phenomenal display of concentration, which was also studded with 24 fours and an incredible six, cover-driven off Sobers, and was the first double-hundred by an English captain away from England.
Then Sobers struck, claiming, somewhat strangely, the English spin trio of Wardle (who scored 66), Lock, and Laker — and finished with more than impressive figures of 28.5-9-75-4. England had scored 414, and with a lead of 275, they had virtually batted West Indies out of the Test.
Walcott fights in vain
Trueman struck early, and Wardle removed Weekes shortly, and West Indies were in trouble again at 38 for two. Stollmeyer scored 64, and Worrell hung around, but both of them fell to Trueman with West Indies still requiring over 150 to make England bat again.
Walcott stood firm, and dominated the partnerships of 68 with Gomez and 40 with Atkinson. With McWatt falling cheaply, Sobers walked out for the second time in the Test to join Walcott. Swanton writes: "as in the first innings, [Sobers] began with exemplary coolness… he played easily and with no small power for one of his years, making 26. He was one of a staunch rearguard."
Walcott scored 116, and West Indies were bowled out for 346, only 71 runs ahead. Sobers had impressions with the ball, and though he looked decent with the bat, he was still not the batsman the world would fear over the next two decades. His time would come, and come soon.
May seals things off
Hutton sent Graveney to open batting along with Willie Watson, and King went through Graveney's defense in the first over. Peter May strode in, and finished the match in the 16th over, thereby equalling the series. They returned home happily. Little did they know that the kid they had caught glimpse of would go on to torment them over the years to come.
Brief scores: West Indies 139 (Clyde Walcott 50; Trevor Bailey 7 for 34) and 346 (Clyde Walcott 146, Jeffrey Stollmeyer 64, Denis Atkinson 40; Jim Laker 4 for 71) lost to England 414 (Len Hutton 205, Johnny Wardle 66; Garry Sobers 4 for 75) and 72 for 1 (Peter May 40 not out) by 9 wickets.
(Abhishek Mukherjee is a cricket historian and Senior Cricket Writer at CricketCountry. He generally looks upon life as a journey involving two components – cricket and literature – though not as disjoint elements. A passionate follower of the history of the sport with an insatiable appetite for trivia and anecdotes, he has also a steady love affair with the incredible assortment of numbers that cricket has to offer. He also thinks he can bowl decent leg-breaks in street cricket, and blogs at http://ovshake.blogspot.in. He can be followed on Facebook at http://www.facebook.com/ovshake and on Twitter at http://www.twitter.com/ovshake42)
First Published: March 30, 2013, 3:30 pm