Submitted by Maggie Reece on Thu, 03/14/2013 - 01:23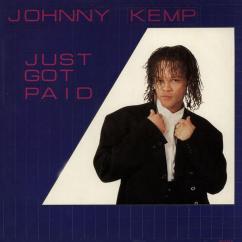 Johnny Kemp is a R&B and dance music singer and dancer born in 1966 in Nassau, Bahamas and raised in Harlem, New York. He released his self-titled debut album in 1986 and scored a minor hit with "Just Another Lover." However, true success came the following year, with the release of his Secrets of Flying album, which contained a pair of top-five hits on the R&B charts, "Dancin' with Myself" and "Just Got Paid", the latter of which went all the way to number one.
"Just Got Paid" also cracked the top 10 on the Billboard Hot 100 in 1988 and went to #1 on the Hot Dance Music/Club Play. His only other Hot 100 entry was "Birthday Suit," a tune from the soundtrack to the movie, Sing which climbed to #36 in 1989.
Kemp recently resurfaced on a 2007 DVD release by Keith Sweat entitled Sweat Hotel Live. This DVD features live performances by Sweat in a sort of 'reunion' with other R&B/New Jack Swing era pioneers of the late 1980s, including Teddy Riley. Kemp appears on the final track, an 'all-star finale' rendition of "Just Got Paid," originally recorded at a February 2006 concert in Atlanta, Georgia. Interestingly, Keith Sweat initially passed on the instrumental track that would eventually become "Just Got Paid," when it was first offered to him in the mid 1980s. Kemp listened to it, added his own lyrics to the melody, and "Just Got Paid" was born.
Even more recently, Johnny Kemp appeared as the featured performer (singing "Just Got Paid") at the NJS4E (New Jack Swing 4 Ever) event in New York City on September 8, 2007. As the name implies, the show was celebrating and commemorating 20 years of New Jack Swing, and it took place at Ashford & Simpson's Sugar Bar. A brief clip of Kemp's performance interspersed with commentary from others at the event appears here .
He is father of two sons, Jason and Jared.