Submitted by Pamela Snow on Tue, 09/18/2012 - 07:47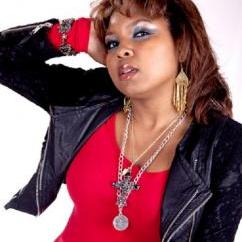 "Miu" (pronounced me-you), a young and talented Haitian artist decided to start to conquer the Haitian public, Caribbean and even further ... Who knows? Her real name Murielle Augustin, she was born on February 7th, 1988. Daughter of a saxophonist and a seamstress, she was born with an artistic sense very pronounced. Already at the age of 7, she conceived and sewed her doll's clothes herself.
She did her primary education at the Sisters of St. Joseph of Cluny. At 9 years, she became aware of her great attraction to music but she does not venture too. She continues at College Marie-Anne high school without further highlight of her artistic abilities. Still, she shared her talent with her comrades. She rubbed the fashion world and has received a certificate in fashion model and makeup in the "Muriel Creation Agency." Currently, a student at CEDI (International & Diplomatic Studies Center), it intends to develop his artistic capacity. It explores its sensitivity to all forms of expression. She showed her talent for writing in a text entitled "Machann Pwomennen", that the newspaper "Nouveliste" had published with pleasure. She then adapted this text to music. She also wrote a book of poems to be published soon and is in line illustration by the painter Jean Robert Philippe-Auguste.
Today, she attaches great importance to music in her life. She was able to make a first test in qualifying for the semi-finals of the contest Solèy Sounds. She sang "Hot Boy" on a Dancehall instrumental, type of rhythm she was not used to. For a first experience in front of a microphone, it was remarkable, because she had never before set foot in a recording studio. EddyWonder is the 'Beat Maker' privileged by Miu, He works in collaboration with Miu on her Mix Tape project.
For a young career, the course is impressive. She had a lot of live performances, especially with the Company Digicel, in the famous show "Haiti Deploge", in the annual fairs like "Artisanat en Fête", "Musique en folie" and many other occasions. She had many newspaper apparitions, especially on Le Nouveliste, Spotlight & Ticket Magazines.
On March 5, 2008 she reached the first place in the Dancehall chart, a category of the World Music section, in an American website that promotes artists of the world: SoundClick.com, on April, she got back to the first place again.
On November 17, 2008, she entered a contest for the United States ourstage.com Travers, a website promoting independent artists, or who have no contracts, launched on 1 November, which offered as its first price, a contract with the rapper / producer T-Pain. She has, composed, and recorded three verses on the instrumental "Everybody Else" of T-Pain within 3 days. She finished number 80 on 1000 participants, lack of votes.
She participated in the carnival song "Men lapli a" of the group "Rap in Family" on February 2009, which song had a lot of success with the video (available on Youtube).
On the 10-10-2010, she has her own concert, a live show, with the participation of the violist Fabienne Philippe-Auguste.
Her 8 songs Mixtape:
• Tann, featuring Stanley Georges
• Here to stay, featuring Melly-B
• Everybody else, featuring T-Pain
• Breaking down walls
• Sous le soleil
• Hey! Featuring Note & EddyWonnder
• Hot boy!
• Men lapli a with Rap in Family
She is about to put out a mixtape and planning to start working on her first album. Now she had rich the limit on her two Facebook profiles with 5,000 friends each. And on her Facebook fan page she already has almost 8,000 fans.
Miu is set to launch its new song called "Se pa premye fwa (Breaking Down Walls creole mix). EddyWonder who is the beat maker is also featured on this song. You can visit her profile with the following links:
www.miuhaiti.com
www.myspace.com/meeyou1
www.youtube.com/miuhaiti www.reverbnation.com/miuhaiti