Submitted by Pamela Snow on Mon, 01/28/2013 - 22:05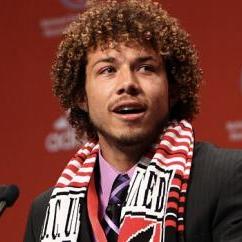 Nick DeLeon has never been to Trinidad & Tobago, the Caribbean nation where his father is revered and his younger sister has played for the junior national teams. The D.C. United winger was born and raised near Phoenix, idolized American players and longed to someday represent the United States on a big stage.
So late last week, when the Trinidadian federation unexpectedly invited him to camp ahead of a Feb. 6 friendly against Peru, he declined. For now, his mind is set on someday playing for the U.S. squad.
"I grew up here and it's always been my dream to play here," DeLeon, 22, told the Insider. "It felt pretty good to get invited, to be honest. It's a big honor. But I don't think it's the right time."
When the call came, he had a long talk with United Coach Ben Olsen. And on Sunday he spoke with his father, Leroy DeLeon, 64, a former T&T international and Hall of Famer who served with several U.S. indoor and outdoor clubs between 1967 and '83, including the Washington Diplomats.
"It would be a huge honor to walk in his footsteps," said Nick, the 2012 MLS rookie of the year runner-up. But as his father told him, "there's no need to rush right now."
Accepting the invitation would not have locked him into Trinidad duty. Under FIFA rules, a player with dual nationality who has not played in an official FIFA event may switch allegiances once. But as tempting as the call-up was, DeLeon wasn't ready to go down that path. Although he hasn't ruled out playing for Trinidad in the future, he would prefer to hold out for a U.S. opportunity.
The appeal of playing for T&T is, amid a smaller player pool, the chance to get on the field almost right away. The competition for a U.S. assignment is considerably higher.
But the Soca Warriors have had problems on and off the field since their World Cup debut in 2006. They failed to advance past the preliminary stages of 2014 World Cup qualifying, finishing behind Guyana in group play in the fall of 2011. They did, however, earn a berth in this summer's CONCACAF Gold Cup by claiming second place in the Caribbean Cup.
DeLeon has taken this wait-and-see approach despite not being invited to the U.S. training camp this month, a gathering of almost exclusively fellow MLS players.
"It was upsetting. It didn't feel good," he said. "A lot of people have told me they thought I should have gotten called up. … I'm using this [MLS] season to show them what I can do and force them to make a decision."
DeLeon had planned to visit T&T for the first time this winter. Instead, he used his savings on an engagement ring for his girlfriend.
Despite having secondary ties to the Caribbean country, "It's in my blood. I definitely feel the island fever," he said. "But I grew up watching the U.S. national team. It's been a lifelong dream."
Read more about Nick DeLeon