Submitted by Pamela Snow on Tue, 08/28/2012 - 08:57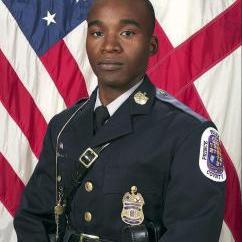 Officer Adrian Morris, a native of Kingston, Jamaica who was raised in Laurel, Maryland and became a U.S. citizen in 2009 was killed on Monday, Aug. 20 in the line of duty during a pursuit.
Morris lost control of his cruiser and crashed off the roadway on I-95 Monday afternoon, killing himself and injuring an officer who was riding with while pursuing two suspects in a stolen car.
Adrian Morris, of Laurel, a two-and-a-half-year veteran with the county department, died from his injuries at Prince George's Hospital Center in Cheverly. The second officer, an adult male, was hospitalized for non-life-threatening injuries but has since been treated and released, said county police.
During a press conference at Prince George's Hospital Monday evening, Police Chief Mark Magaw said two the officers were investigating a call for a theft from auto in the Beltsville area when they discovered someone driving a silver Acura believed to be involved in the crime. The officers pursued the Acura traveling on I-95 South when Morris lost control of the cruiser near Powder Mill Road. Magaw said the officers were attempting to determine the license plate number of the Acura during the pursuit but could only make out that it had temporary tags.
"Police Officer Morris represented the very best that our agency has to offer," said Magaw. "He wanted to be a Prince George's County police officer from a very young age, and it showed in all of his interactions with the community
Officer Morris will be laid to rest later today.