Submitted by Pamela Snow on Fri, 09/14/2012 - 12:23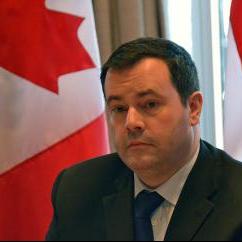 OTTAWA, Canada, Friday September 14, 2012 – As part of an effort to screen more travellers for security risks prior to their arrival in Canada, Ottawa has imposed visa requirements on nationals of St Lucia and St Vincent and the Grenadines.
The new requirements, which came into effect on Tuesday, are designed to help significantly reduce the risk that individuals engaged in organized crime or the trafficking of persons could gain entry to Canada.
A key reason why the Canadian government has imposed visa requirements on citizens of the two Organization of Eastern Caribbean States (OECS) countries is said to be unreliable travel documents. In particular, criminals from these countries can legally change their names and acquire new passports, resulting, in some instances, in people who were removed from Canada as security risks later returning using different passports.
According to Citizenship, Immigration and Multicultural Minister Jason Kenney, "These requirements will better protect the safety of Canadians by preventing foreign criminals from coming to Canada in the first place".
"We continue to welcome genuine visitors to Canada," the minister said. "However, these visa requirements will give us a greater ability to manage the flow of people into Canada."
The visa policy change means that nationals from St Lucia and St Vincent and the Grenadines desirous of travelling to Canada will first need to apply for a visitor visa and meet the requirements to receive one.
Applicants must satisfy visa officers that their visit to Canada is temporary and they will not overstay their authorized stay; have enough money to cover their stay; are in good health; do not have a criminal record; and are not a security risk to Canadians. These requirements are the same for anyone who wants to visit Canada.
Applicants from St Lucia and St Vincent and the Grenadines can now submit their applications by mail or by hand to the Canadian visa office in Port-of-Spain, Trinidad. Travellers to Canada will be able to apply online for all temporary visas in the near future.
The move is geared to further strengthen Canada's immigration and asylum systems, and it complements the measures the government is implementing this year under the Protecting Canada's Immigration System Act, which recently received Royal Assent, and those proposed in Bill C-43, the Faster Removal of Foreign Criminals Act.
Canada regularly reviews its visa requirements toward other countries. Countries are aware that they have a responsibility to satisfy certain conditions to receive a visa exemption.