Submitted by Admin on Thu, 09/18/2014 - 14:49
The 2014 Boeing Pilot and Technician Outlook projects that 533,000 new commercial airline pilots and 584,000 new maintenance technicians will be needed to fly and maintain the world fleet over the next 20 years.
Meeting this exponential increase in demand will require innovative solutions-focused on new, digital technology-to match the learning requirements of a new generation. The growing diversity of aviation personnel will also require instructors to have cross-cultural and cross-generational skills in order to engage tomorrow's workforce. Training providers will be more focused on enabling airplane operators to gain optimal advantage of the advanced features of the latest generation of airplanes, such as the 787 Dreamliner and 737 MAX.
Asia Pacific demand for pilots remains greatest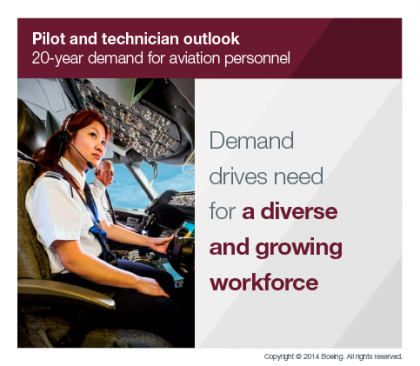 Although Asia Pacific remains the region with the highest overall demand, the anticipated number of pilots and technicians required in the Middle East has increased significantly, reflecting expected fleet expansion plans by the region's airlines.
Airlines across the globe are expanding their fleets and flight schedules to meet surging aviation demand in emerging markets. The industry continues to consider how to address challenges and fill the future pilot pipeline.
Emerging markets that have relied heavily on recruitment of pilots from outside their home markets will increasingly need a strong local foundation for developing and training qualified pilots.
Over the next 20 years, the Asia Pacific region, with a requirement for 216,000 new pilots, will see the largest growth in pilot demand. Europe will require 94,000; North America, 88,000; the Middle East, 55,000; Latin America, 45,000; the Commonwealth of Independent States (CIS), 18,000; and Africa, 17,000.
The need for technicians will remain strong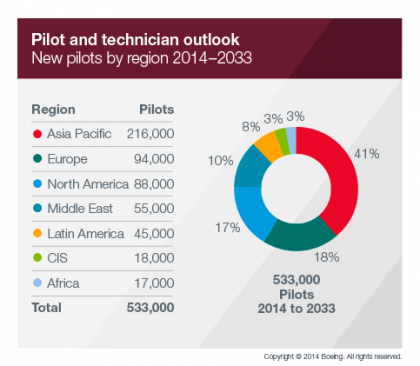 As new-generation airplanes come to dominate the world fleet over the next 20 years, airplane reliability will improve, and maintenance check intervals will lengthen. Although this trend will moderate growth in the demand for technicians, the global requirement remains significant.
The combination of global fleet growth and an increasing trend to outsource maintenance, repair, and overhaul activities to third-party providers in emerging markets will drive the need for the number of qualified technicians to increase and the number of geographical sources of trained technicians to expand.
The need for maintenance personnel is greatest in the Asia Pacific region, which will require 224,000 new technical personnel. Airlines in Europe will require 102,000; North America, 109,000; the Middle East, 62,000; Latin America, 44,000; the CIS, 24,000; and Africa, 19,000.