Submitted by Pamela Snow on Mon, 01/28/2013 - 21:12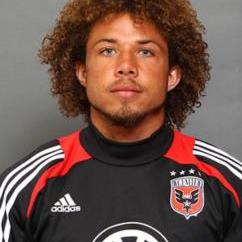 Nick DeLeon soccer player for DC United is the son of Trinidadian Leroy DeLeon who played for the Trinidadian played for the Washington Darts and later the Diplomats in the North American Soccer League in the 1970s.
Current Club: D.C. United
Height: 5' 10"
Weight: 170 lbs.
Birth Date: 07-17-1990
Birthplace: Pheonix, AZ
2012: The MLS Rookie of the Year runner-up – D.C. United's fourth finalist in the category in as many seasons – made an immediate impact in his inaugural professional campaign, scoring his first League goal 13 minutes into his first MLS appearance on March 18, 2012 against the LA Galaxy in a 3-1 loss. DeLeon would go on to tally six strikes in his first season – also adding four assists – breaking D.C. United's rookie goal-scoring record, previously held by Santino Quaranta (2001), Freddy Adu (2004) and Andy Najar (2010). During the Black-and-Red's first playoff run since 2007, DeLeon notched two additional goals, including the match-winner (and series-clincher) in the 88th minute against the New York Red Bulls in the Leg 2 of the Eastern Conference semifinals.
2011: DeLeon ranked second on the team in scoring with six goals and six assists, starting every match during his senior season. The Phoenix native led the team with 76 shots, finishing the year with two game-winners, including one in overtime against Bradley in the 2011 NCAA College Cup. In addition to earning All-Great Lakes Region and All-Big East First Team honors for the second straight year, DeLeon was the only Cardinal selected to the Big East All-Tournament Team.
2010: DeLeon started in all 24 games for Louisville, earning All-Big East honors in his first season with the Cardinals. He finished his junior campaign tied for second on the team in scoring with eight goals and three assists, as well as leading the team with 71 shots and four game-winning goals. Among his other honors were Big East Offensive Player of the Week, and DeLeon was named to the TopDrawerSoccer.com Team of the Week on two occasions. DeLeon was also named to the 2010 All-Big East Conference First Team.
2009: DeLeon scored two goals and recorded two assists in 12 matches (nine starts) during his sophomore season at UNLV. He also recorded 19 shots, including nine on goal, and earned All-MPSF honorable mention honors.
2008: In his first season at UNLV, DeLeon saw action in 18 matches, starting 12 of those contests. He was tied for second on the team with three assists and earned Second Team All-MPSF honors as a freshman.